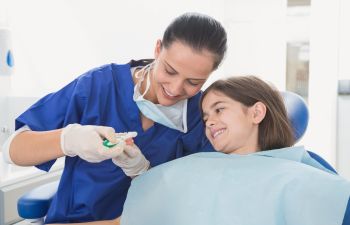 You've probably heard talk about when it's the best time for your child or teen to see an orthodontist. Here's what you need to know about your child's first orthodontic evaluation with our office in Marietta.
What Age Should My Child See an Orthodontist?
Experts recommend that children have their first orthodontic evaluation by age 7.  This early screening is perfect for rapidly growing smiles. If your child doesn't need braces yet, we can monitor their development on an intermittent basis to make sure growth patterns line up properly.
What Happens During the Orthodontic Exam?
At your child's first orthodontic visit we'll take a series of photographs, X-rays, scans, and possibly impressions of their teeth. All of this information is used to assess growth patterns and tooth positioning. We'll also discuss any specific concerns you may have.
How Much Do Braces Cost?
Most dental insurance plans will cover at least a portion of orthodontic treatment for children. If your child needs braces, there are financing plans available to easily fit payments into your monthly budget. We will provide you with a written care plan at the completion of your child's evaluation.
Is My Child Ready For Braces?
 In some cases, children require orthodontic treatment even before they have all of their permanent teeth in place. Usually, a combination of both permanent and baby teeth is present.  Early intervention helps promote healthy oral development to minimize orthodontic complications in the future. However, some children don't get braces until they're in junior high or high school.
Reserve a Consultation Today
Is orthodontic treatment right for your child? Call East Cobb Orthodontics today to reserve a consultation. We'll be happy to answer all of your questions!