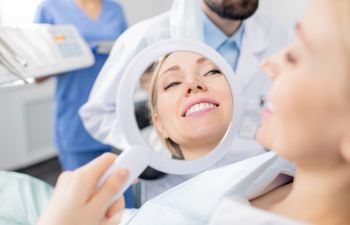 As we begin a new year, many of us head into it with a list of things we'd like to achieve or new goals we set. Improving your oral health sometimes makes the list. Realistically, it's a part of our health that we don't give much attention to. If having your teeth straightened is something you would like to do but have been putting off, let this be the year you take the steps toward orthodontic treatment.
Straightening your teeth improves your smile's health and makes it more aesthetically pleasing. The benefits go beyond the aesthetic appeal of a symmetrical smile. In reality, straighter teeth are healthier teeth. By investing in braces or clear aligners, you can promote healthier teeth in the years (and decades) ahead.
Better Gum Health
When teeth sit too close together, they can be hard to clean around. As plaque packs between them, this can begin to interfere with the health of your gums. Straightening your teeth will improve plaque control around your teeth and gums, leaving fewer areas for the buildup to accumulate. Healthy gums mean healthy teeth!
Better Alignment for Tooth and Jaw Function
Having your teeth positioned in the correct alignment will mean that while chewing, there will be less stress on the joint in your jaw (TMJ). You'll also minimize the chances of improper wear on your tooth enamel because of biting down incorrectly.
If you still have unanswered questions about getting braces or aligners, contact East Cobb Orthodontics today! We have options for patients of all ages and are happy to help you achieve the healthy smile you deserve.