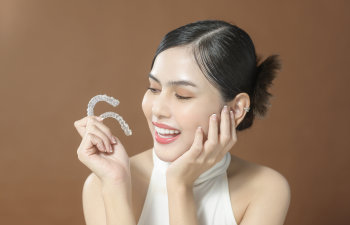 When it comes to straightening your teeth, you typically have a choice between traditional braces and Invisalign. While both options can effectively address tooth misalignment, Invisalign offers several advantages that make it a popular choice among our adult and teen patients. At East Cobb Orthodontics in Marietta, GA, we believe in providing the best treatment options for our patients, and here's why we might recommend Invisalign:
Aesthetics: One of the biggest advantages of Invisalign is that it's virtually invisible. Unlike traditional braces, Invisalign aligners are made of clear, smooth plastic that fits snugly over your teeth. This means you can straighten your teeth discreetly, without drawing unnecessary attention to your orthodontic treatment. Most people will never see them.
Comfort and Convenience: Invisalign aligners are custom-made to fit your teeth. The smooth plastic material eliminates the risk of irritation that you might see with metal brackets and wires. Additionally, Invisalign aligners are removable, allowing you to enjoy your favorite foods without having to worry about something breaking. You can also brush and floss your teeth like normal, without needing special tools to clean around braces.
Predictable Results: Invisalign utilizes advanced 3D imaging technology to create a customized treatment plan for each patient. This technology allows you to see a virtual representation of how your teeth will move and how your smile will transform over time. By following the prescribed treatment plan and wearing your aligners as directed, you can achieve predictable and precise results, ensuring a beautiful smile at the end of your treatment journey.
Schedule Your Invisalign Consultation Today
Don't wait any longer to transform your smile. Contact East Cobb Orthodontics today and take the first step toward a straighter, more beautiful smile with Invisalign.