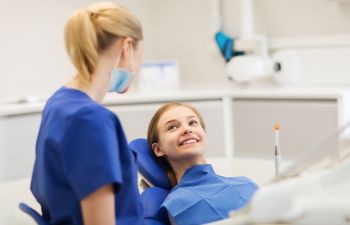 Typically, we start your child with their orthodontic treatment once all of their permanent teeth have come in, which is usually around the age of 13.
However, it's a great idea to have your child come in for a consultation sooner, like around the age of seven.  There are some instances in which we can spot potential issues in your child's growing and developing mouth.  If arches are too narrow, for example, or if the jaw isn't properly aligned, we can often intervene with Phase 1 orthodontics.
By taking earlier action, we can take advantage of your child's growing mouth to easily manipulate its development and get issues corrected in a more efficient manner.  If ignored, these problems can often times still be fixed later in age, but doing so will likely be more tedious and take longer to correct (meaning more time in braces.)
What Happens After Phase 1 Orthodontics?
Once any initial problems have been corrected and your child's mouth is on its way to continue developing properly, we will keep an eye on them to make sure that everything stays on track.
More often than not, after all the permanent teeth have come in, your child will undergo Phase 2 ortho, which is the process of fine tuning the alignment of their teeth and bine. Treatment time for Phase 2 orthodontics should be kept to a minimum, thanks to Phase 1.
What Orthodontist to Choose In Marietta
When facing orthodontic treatment like Phase 1, which isn't as straight forward as the typical case, you'll want to make sure you're being treated by a knowledgeable and experienced orthodontist like those of East Cobb Ortho.
Come check us out today and see why other Marietta residents are coming to us for all of their orthodontic needs!