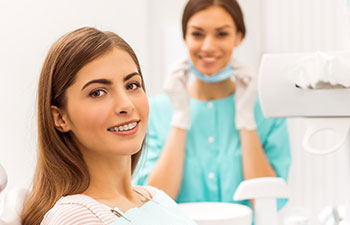 "Malocclusion" is the term we used to describe when teeth don't bite (occlude) together properly. Like pieces of a puzzle, the biting patterns of your teeth need to fit against their neighbors a certain way. Otherwise it can lead to complications.
One such malocclusion is what we call an "end-to-end" bite. This type of biting position occurs when the cusps or biting edges of certain teeth directly bite against the cusps and biting edges of the opposing teeth.
Perhaps the easiest place in your mouth to see an example of an end-to-end bite is in the front teeth. Normally, we want the upper front teeth to ever so slightly overlap the lower front teeth. If both the upper and lower teeth hit one another and stay that way when your mouth is closed, you have an "end-to-end" bite.
Why Does it Matter?
Your tooth enamel is durable, but not invincible. When teeth bite together end to end, it places excessive strain on those areas. In time, the opposing teeth can actually start to wear one another away. You might see signs of:
Short teeth
Flattened enamel
Chipping
Sharp edges
Once teeth start to wear down, the only way to build them back up is to place crowns over them. Obviously, it would be best to opt for a minimally invasive way to prevent the wear before it starts. That's exactly where orthodontic treatment comes in!
At East Cobb Orthodontics, we screen for a variety of malocclusions during each orthodontic evaluation. End-to-end bites are just one example. If you're experiencing symptoms of this common concern, request an evaluation before the tooth wear can get any worse.