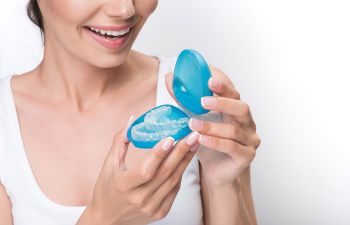 After undergoing a teeth-straightening procedure like Invisalign, wearing a Vivera retainer is a great way to maintain your new smile. The clear, plastic trays look much like the Invisalign trays themselves, and are the top choice for keeping your teeth in their new aligned positions.
Why Choose Vivera Retainers?
An after ortho maintenance protocol isn't limited to Vivera retainers. However, they are the method we choose due to the following reasons:
Wearing them is comfortable.
You can easily remove them.
Cleaning Vivera retainers is simple.
Brushing and flossing your teeth is as easy as ever, since you remove the retainers to do so.
The clear material means no one will know you're wearing them.
The material used to make Vivera is 30% stronger than the standard retainer.
Since they're made from a digital replica of your teeth, the fit is very accurate, allowing no room for movement.
They're made in sets of four, so when you need to replace a pair, you'll always have another one handy.
Your digital model stays on file so ordering more retainers is fast, simple, and doesn't require you to even visit the office. We can mail them right to you!
If needed, Vivera retainers have the potential to shift your teeth back up to .25mm.
Vivera Retainers help support the changes in your bone and ligaments that was caused by orthodontic treatment.
Vivera Retainers in Marietta
East Cobb Orthodontics will stand by you even after your orthodontic treatment is done. To get your Vivera retainers and prevent your teeth from shifting back, give us a call today! We'll get you set with a maintenance protocol right away.