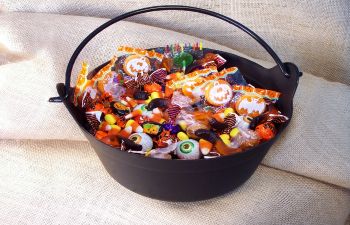 It's Halloween! All you want to do is enjoy a scary movie, visit a good haunted house, and eat some CANDY!  However, when you're in braces, the effects candy can have on your teeth are as frightening as being crossed by a black cat on Halloween.
Yes, you can still participate in trick or treating, and you can still relish in a good sugar high – BUT – we urge you to please take some precautions.
Avoid sticky and gooey candy that smothers your braces and is impossible to remove.
Hard candy is okay to suck on, but it should not be chewed. Brackets can pop off easily, leading to an orthodontic emergency.
Chocolate is the best type of candy to eat during Halloween. So, if you're a fan of chocolate then you're in luck. Go ahead and enjoy yourself!
You've Had Your Fun
Okay, now that you've enjoyed yourself it's time to get back to reality.  Sugar that sits on teeth damages the enamel and causes cavities that are irreversible.  So, once you're done with your night of fun, you'll need to ensure that you get your teeth and braces spick and span.
When brushing, make sure that you're getting all surfaces of every tooth. Thoroughly brush the brackets and wire as well. Rinse with a fluoride mouthwash.  And remember to floss.  You'll need special flossers, and possibly certain brushes to get those hard to reach areas.  Have these products available beforehand so that you don't have to delay cleaning your teeth properly.
If you need us for any reason, then just give East Cobb Orthodontics in Marietta a call. We're glad to help. Happy Halloween!