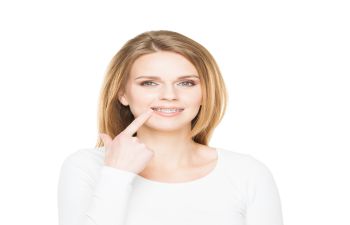 Going through orthodontic treatment in Marietta takes time, money, and energy. You worked hard to get your new smile just right.  The last thing you'll want is for your teeth to get crooked again. Yet, without the right plan of action, it is possible to experience relapse.
Retention Methods
Once you've completed treatment at East Cobb Orthodontics in Marietta, GA you'll begin to use some form of retention appliance to hold your teeth in their new positions. Two of the most common ways to do this is with a:
With this method, a thin metal wire is permanently bonded to the back of your front teeth. Keeping it clean is very important as it can potentially attract a lot of food particles (that can lead to decay if not properly removed.) When you come in regularly for your dental visit, we'll inspect the wire and cement to ensure that everything is intact.  If you ever notice fraying of the wire or anything loose, you should call East Cobb Orthodontics in Marietta right away. Waiting too long can allow a relapse to occur.
This is a clear plastic removable tray (or sometimes a colored acrylic device with a wire) that slides over your teeth and is worn at night – meaning that cleaning your teeth will be as easy as ever. Retainers need to be replaced more often than lingual wires, so keep a close eye on yours to ensure it's in good condition. Toss it out and get a new one at the first sign of a tear, or loose feeling when worn.
What to Do if You Relapse
If you notice that your teeth are starting to shift back, give East Cobb Orthodontics in Marietta, GA a call. We can evaluate the amount of movement and determine a good method to use to get you back on the right track. Contact us today!