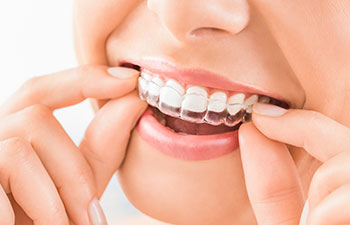 You're here right now because you want straighter teeth. Plus, you want them without it being obvious to others that you're having orthodontic treatment.
Fortunately, there are plenty of options for adults and teens to correct their smiles. Some of these even allow you to do so discreetly.
Check out a couple of the most popular procedures that we offer here at East Cobb Orthodontics:
Ceramic Braces
Your teeth can still respond very well to the help of classic braces with a modern twist. By making the brackets out of ceramic and using a clear or tooth-colored wire, you'll get all the benefits of braces without the "metal mouth" look.
Invisalign
A very popular braces-free orthodontic option, Invisalign is a removable series of clear alignment trays.
Lots of people choose Invisalign for these reasons:
No dietary restrictions
Not noticeable by others
Can remove it for easy cleaning
Can brush and floss like normal
Invisalign isn't for everyone, however. It mainly depends on how complicated your case is. While it can make a big difference in most cases, Invisalign isn't meant to correct teeth with certain types of positioning.
Invisible Orthodontic Treatment In Marietta
For reliable results, trust Dr. Capps and Dr. Iaculli with your orthodontic care. When you visit East Cobb Orthodontics, we're going to offer you a technique that combines your preferences with your orthodontic needs. You'll be thrilled with how life-changing the results can really be.
Braces aren't just for kids, these days! You can enjoy an incredible-looking smile without the hassle of metal wires and brackets, thanks to our variety of adult treatments.
Call us today to schedule your first consultation.