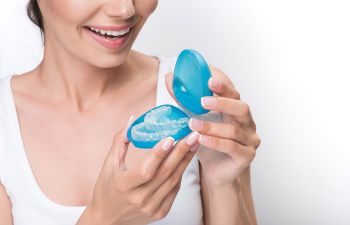 When you finish your orthodontic treatment in Marietta, Georgia and have the straight teeth you've always wanted, you'll want to ensure that your smile stays that way.  To help prevent relapse, you'll need to wear a retainer. Typically, there are two kinds of maintenance protocols that are used. The first is a lingual wire, and the second is a Vivera retainer.
Lingual Wires
Also known as fixed or bonded retainers, a lingual wire is a thin piece of straight, or braided wire that spans across the width of the backside of your front teeth.  Your Marietta orthodontist will bond the wire to each of your teeth (or the ones on the ends of the wire) to hold it in place, in turn locking the teeth in place and keeping them from moving.
Advantages of A Lingual Wire
A fixed solution that if always with you
Durable
Not visible to others
Disadvantages of A Fixed Retainer
Attract plaque and tartar buildup
Hard to clean – require special tools
Vivera Retainers
Vivera® retainers are commonly used with Invisalign.  In fact, these retainers are clear, plastic trays that look just like the Invisalign aligners.
Vivera Retainer Advantages
Fit accurately since they're made from a 3-D digital replica of your teeth
Easily removable
Oral hygiene is easy because you can take them out
Capable of realigning minor tooth movements that are up to .25mm, per tooth
Vivera Retainer Disadvantages
You have to remove them to eat
Before putting them back in your mouth you should brush your teeth
They don't work with athletic mouthguards
Can be accidentally misplaced or warped
Which Retainer Is Right for You?
If you're finished with your orthodontic treatment and want to find out about getting the best retainer, then call East Cobb Orthodontics in Marietta, GA today!