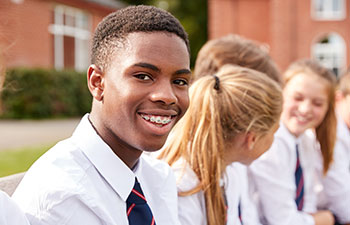 When wearing orthodontic braces, you need to make a real effort to keep your teeth and gums healthy. It takes extra care to clean around the wires and brackets of the braces.
What are some tips on keeping your teeth and gums healthy with braces?
Watch your diet – Avoid sugary drinks and foods that can get stuck between your teeth and underneath the wires. These sugary foods and drinks are harmful because the sugars combine with germs in your mouth and if left alone, can irritate your gums and cause cavities.
Get regular dental checkups and cleanings – You should go regularly to your dentist for exams and to get professional teeth cleanings to help make sure you can prevent, find and treat cavities or gum disease before the problems get worse. You should also get fluoride treatments at your dental visits on a regular basis to help strengthen your teeth, especially around the brackets and bands of your braces.
Keep your teeth clean at home – Use a soft toothbrush (even better with an electric toothbrush) and dental floss with floss threaders to help floss around and underneath your braces daily. This will help to fight cavities between your teeth and on the surfaces around the brackets.
Don't forget about your gums – Flossing not only prevents cavities between your teeth but it helps to fight gum disease by helping to remove germs that cause gum disease, especially with braces.
Are you considering braces? Are you concerned about keeping your teeth and gums healthy while wearing braces? Call us at East Cobb Orthodontics to schedule a consultation! We are here for you to answer your questions and concerns.