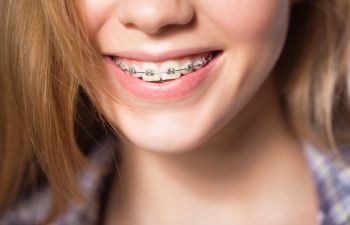 Is your student about to head back to school? In braces? Here are some important tips to help them minimize bad breath, food stuck between brackets, and keep their smile healthy while they're away from home.
Pack an Oral Care Kit
With more kids in braces, it's not as "weird" to brush your teeth at school anymore. Pack a small zip-up bag with a travel sized toothbrush, toothpaste, and proxy-brush. Make it a point to go to the restroom ASAP after lunch to clean away food debris around your braces. If you get desperate, you can brush with a dry toothbrush and proxy-brush at your locker. Just bring them home each day to rinse them clean.
Drink Plenty of Water (When You Can)
Keep a refillable water bottle or make it a mission to get a drink at the water fountain whenever you pass by. Flushing fresh H2O over your teeth reduces oral biofilm levels for cleaner teeth and fresher breath.
Keep a Pocket Mirror and Proxy-Brush
A small compact or pill box with a mirror (that's big enough to hold a travel proxy-brush) is a great tool to check your teeth on the go. You can use it at your desk, in the hallway, or wherever you're comfortable.
Be a Trendsetter
Having healthy, clean teeth is one of the best accessories you can wear every day. By caring for your smile, you'll motivate others to do the same!
East Cobb Orthodontics offers braces for all ages. Need help finding new ways to keep your teeth clean? Ask for some ideas when you're here for your next appointment!