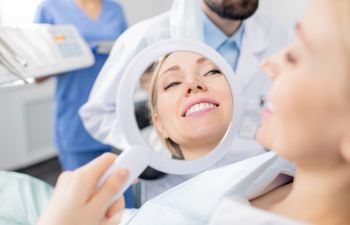 Having choices is a good thing but sometimes it can be hard to figure out what will be the best choice for you. It's no different when it comes to choosing the right type of braces for your treatment. Everyone's needs are different, and at East Cobb Orthodontics, we can discuss your orthodontic options to help you choose the one that is best for you.
Damon Braces
Our self-ligating bracket of choice is the Damon System. These brackets are ideal for those who may not be a good fit for Invisalign but still offers a straightforward orthodontic treatment. The brackets will still be bonded to your teeth but are designed to have less friction while being comfortable. There is less responsibility with bonded brackets, making them a good choice for someone who may have trouble keeping up with removable appliances.
Invisalign
Invisalign has become the top invisible braces choice for people who don't want traditional bonded orthodontic systems. Most adults choose to undergo orthodontic treatment now that they have a more discreet option available. These removable, clear trays make it more convenient to eat, brush and floss. Since the trays are custom-made, they fit securely over your teeth, so there is no need to worry about them shifting out of place. The smooth plastic is comfortable and doesn't irritate your lips or cheeks.
Orthodontic treatment doesn't have to be painful and time-consuming.
If you're interested in learning more about how we can help you enjoy a straighter smile, give East Cobb Orthodontics a call today. We can schedule a no-obligation consultation and review your options to help you make the right choice.