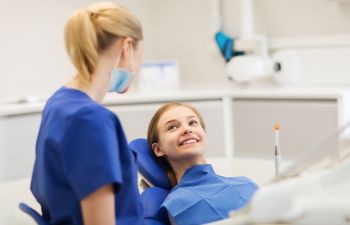 Have braces? Hate flossing? Then you're in luck! Investing in a water flosser is a great way to thoroughly clean around your orthodontic appliances. Plus, you can even use them once you get your braces off.
Although water flossing can be a little messy at first, it gets better with practice. There are even some designs that are meant to be used in the shower, which consequently cut down on spray (and having to clean your bathroom mirror more often.)
Here's what you should do:
Step 1. Choose the Right Tip
Depending on the model that you buy, you'll have your pick between simple tips or some with small brushes on the end. The smooth tips work best for gumlines and between teeth, while the brushes do well around brackets.
Step 2. Set the Right Temperature
Adjust your faucet so that you're using lukewarm or slightly warm water. Nothing too hot or too cold.
Step 3. Adjust the Pressure
If it's your first time to use a water flosser, keep the pressure down. Work your way up as it becomes more comfortable.
Step 4. Trace Your Gums
Gently trace along the edges of your gums to flush plaque out from underneath them. Be sure to pay attention to the pointed gum tissues between your teeth.
Step 5. Clean Between
Pause between teeth and clean up and down where they touch, then turn the tip to spray against/around the margins of your brackets.
Chances are, you'll love using a water flosser so much that you'll never want to go back to traditional string floss. For more tips on cleaning around your braces, visit East Cobb Orthodontics.