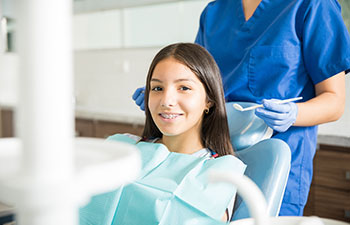 After you complete your orthodontic treatment, you might have a "fixed retainer" that's bonded to the back of your lower front teeth (and occasionally the upper front teeth.) Since it's out of plain view and right next to a saliva gland, it can be a little predisposed to getting buildup around it. When you follow these tips, you can keep your smile clean, fresh, and healthy!
Brush Around it First
Always spend a little extra time brushing around your fixed retainer. Use the end of the toothbrush and brush up and down behind each individual tooth. If you have an electric toothbrush, hold it there for several seconds before moving to the next tooth.
Use Floss and a Floss Threader…
Loop your floss through the device and thread it between your teeth, just under the wire retainer. Gently floss the side of each tooth. If your retainer is only bonded on each end, gently slide the floss under the retainer to the next tooth, repeating the process until you've cleaned all of the lower front teeth.
…or a Water Flosser!
Water flossers can replace your traditional floss if you prefer. They're great for the entire mouth.
Schedule Regular Cleanings
No matter how well you're cleaning around your fixed retainer every day, chances are you'll still get a little bit of tartar buildup here or there. That's perfectly normal. Just be sure to schedule a professional dental cleaning at least once every six months to have the area looked at by an expert.
Visit Our Marietta Orthodontist Today
For more advice on oral hygiene with braces, retainers, or to schedule an orthodontic evaluation, contact East Cobb Orthodontics in Marietta today.