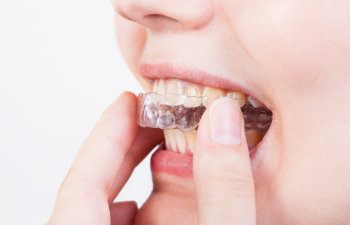 Congratulations on choosing treatment at East Cobb Orthodontics in Marietta, GA. To make sure you get the most out of your orthodontic journey, it's important to know how to care for your teeth and Invisalign trays during treatment. Let's explore some essential tips for our Invisalign patients:
1. Brush and Floss Regularly
Maintaining good oral hygiene is paramount during your Invisalign treatment. Brush your teeth after every meal (or snack) and floss at least once a day to remove any food or plaque between your teeth. By keeping your teeth and Invisalign trays clean, you ensure that your teeth and gums stay healthy during your orthodontic treatment.
2. Clean Your Trays Thoroughly
You will need to clean your Invisalign trays thoroughly every day. You can use a soft toothbrush and a small amount of mild, clear, or antibacterial soap to gently brush the aligners. Avoid using toothpaste, as it can be abrasive and scratch the trays, creating places for bacteria to accumulate.
3. Soak Your Trays at Least Once a Week
Regularly soaking your Invisalign trays in approved aligner cleansers can help eliminate stubborn stains and residue. Denture cleaning tablets or Invisalign cleaning crystals are excellent options for this purpose. Follow the instructions provided by our Marietta, GA orthodontic team to ensure safe and effective results without damaging your trays.
4. Store Invisalign Trays Properly
When you're not wearing your Invisalign trays, be sure to store them in their case to protect them from damage, loss, small children, or pets. And always keep them out of hot cars or other areas where temperatures may be high.
Your Smile is Our Priority
If you have any questions or concerns about Invisalign treatment in Marietta, don't hesitate to reach out!