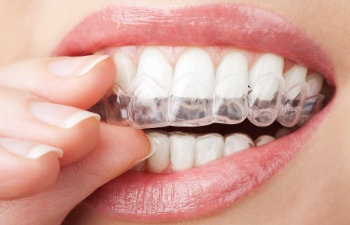 At East Cobb Orthodontics in Marietta, we want to ensure that you get the best results from your Invisalign treatment. To keep your aligners and smile in tip-top shape, here are some everyday home care tips that you should follow:
Remove Invisalign Whenever You Eat or Drink (Anything Other Than Water)
Eating or drinking anything other than water while wearing your Invisalign can damage the aligners and cause stains or discoloration. Not to mention trap food around your teeth. Make sure you take Invisalign out before you eat or drink anything and put them back in after you finish. However, it's 100% OK to drink water while you're wearing Invisalign.
Rinse or Brush After Meals
After you eat, it's important to brush your teeth or rinse your mouth with water before you put your aligners back in. This will help remove any food particles. Brushing is best, but mid-day rinsing is helpful too.
Don't Use Hot Water or Abrasive Products to Clean Invisalign
Hot water can warp your aligners, and abrasive products can cause scratches on the surface, causing stains and bacteria buildup. Make sure to only clean your Invisalign with a soft-bristled toothbrush and a mild soap or Invisalign cleaning solution.
Change Your Aligners as Directed
Finally, make sure you change your Invisalign aligners as directed by our team at East Cobb Orthodontics. This is essential to ensuring that your treatment stays on track and that you get the desired results in the timeline you expect.
If you have any questions or concerns, don't hesitate to reach out to East Cobb Orthodontics in Marietta. We're always happy to help!