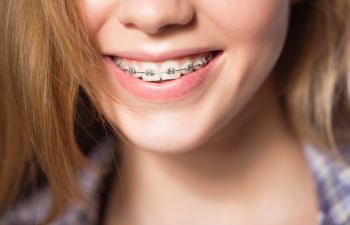 No one wants to have an ugly smile. But how big of a difference do a few crooked teeth make?
If you're not bothered by them, why be bothered to get braces?
There's more than meets the eye when it comes to tooth alignment. Here's how crooked teeth can affect your oral health…
Your teeth can wear down faster.

Teeth that close together unevenly will wear down enamel and create weak spots. This can lead to sensitivity and cavities. As teeth wear down, you may find that the surrounding gums are receding from the tension, as well.

Your teeth may fracture easier.

As tooth enamel thins out from uneven wear, you may be more likely to suffer a tooth fracture. A bad bite increases your risk of breaking your tooth in an accident or on hard food.

You have a high cavity risk.

Marietta residents hate spending a fortune on dental fillings and crowns. Unfortunately, crooked teeth play a role in increasing the need for dental work.

Overlapping teeth trap the germs that cause cavities. So for as long as you have crooked teeth, you'll be at higher risk for decay.

Your gums are prone to infection.

Crooked teeth make it hard to access the gum line to thoroughly remove plaque. As plaque bacteria build up along the gums, they trigger swelling and infection that leads to gingivitis.
Get Braces, Get Healthy
What are the benefits of straightening your teeth?
Easier to keep your teeth clean
Fresher breath
Less stain on teeth
Comfort in daily activities like eating and speaking
Ready to find out how braces could improve your oral health? Schedule a visit to East Cobb Orthodontics.