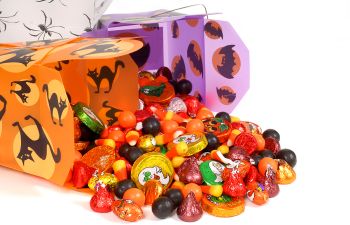 Wearing braces can come with a lot of rules but that doesn't mean your kids can't enjoy tasty treats with their friends. At East Cobb Orthodontics we know Halloween is around the corner and braces shouldn't stop your children from getting in on the fun. Here are some ideas of types of braces safe treats your kids can have for Halloween and into the holiday season.
Safe Candy for Braces
When thinking about what treats may be best for kids during orthodontic treatment, you want to think of things that aren't sticky or too hard or crunchy. Chocolate makes a safe choice because you can get a large assortment of chocolates which won't be hard on kids' braces.
Chocolates melt away easily and won't cause brackets to break when eating them. You will still want to avoid any chocolates that have a hard center or a lot of nuts. You also want to steer clear from chocolates with sticky, chewy centers. Even when avoiding these, there are plenty of chocolates and chocolate bar options left to enjoy.
After indulging on any form of sugary treats, remember to brush and floss. Try having the candy right after a meal to minimize bacterial exposure on the teeth, too!
Yes, Kids Can Enjoy a Halloween in Braces
Kids don't have to miss out on trick or treating because of braces, just make sure it's done in a safe way. Help them go through their treats and choose wisely what to keep and what to give away. If you have any questions before Halloween rolls around, give us a call.
For more information about braces and other types of orthodontic treatment, call East Cobb Orthodontics to schedule and consultation today.