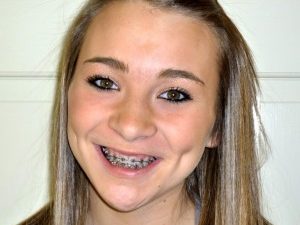 Invisalign is the clear braces alternative that offers a discreet way to straighten your teeth without the need for metal wires and brackets. As you enjoy the transformation of correcting your bite, you can also choose to whiten your teeth during the process for a quick smile makeover.
How to Whiten with Invisalign Aligners
Invisalign uses plastic aligner trays that are custom made to fit precisely over your teeth. They're worn 24/7, except when you're eating or cleaning your mouth. Because of their snug fit, they can safely hold teeth whitening gel. But due to their snug fit, only a small amount of whitening gel should be used. Otherwise it could overflow, irritating your gums or causing sensitivity. Always follow the directions carefully.
Since Invisalign is updated every two weeks, you can whiten as needed without being re-fitted for whitening trays during treatment.
A straighter, whiter smile is an affordable and non-invasive way to enjoy a complete smile makeover. If you're thinking about cosmetic dentistry treatments, Invisalign is a holistic alternative.
When To Whiten During Invisalign Treatment?
Straighter teeth generally whiten more quickly than crooked ones. If you whiten too early during Invisalign treatment, the solution may not evenly coat all of the surfaces of your teeth. This could lead to uneven results as your smile comes into alignment. In some cases, it might be a better idea to wait until you're nearing completion of your Invisalign treatment, but that's not always necessary. For our patients with small "buttons" on their teeth, it's best to wait until those Invisalign appliances are removed before applying whitening agents.
Consult with the team at East Cobb Orthodontics to find out which whitening system is best for your smile during orthodontic treatment.