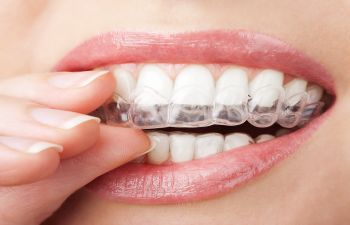 Both restorative dentistry (like dental crowns) and orthodontic treatment (like braces) are common procedures. So there's a good chance that you or a family member will need both at some point in your lifetime.
Fortunately, you can get braces if you have a dental crown.
Here's what you should know about dental crowns and braces in Marietta.
There may be some cosmetic damage.

Pressure from braces or even leftover cement can cause a little scratching on a dental crown. This isn't noticeable if the crowned tooth is in the back of your smile. But fixing the damage is often as simple as a little polishing. Braces shouldn't damage a crown so much that it has to be replaced.

Treatment might be a little slower than usual.

If your tooth was crowned because it experienced some kind of trauma, then it may be weak and need to be moved very slowly. Also, if your dental crown involves an implant or bridgework then that will also make your treatment a bit more complex.

It is preferable to get the crown after orthodontic treatment.

Aim to get your dental crown after the braces come off. You can postpone this restorative procedure if you want a crown for cosmetic purposes. Otherwise, a decayed or cracked tooth should be taken care of ASAP before braces.

You have several orthodontic options.

Adults are more likely to have dental crowns than kids, but adults also have more options for straightening their smile. If you have a dental crown, you may qualify for an orthodontic method involving a removable tray that won't harm your crown.
To learn more, contact East Cobb Orthodontics for a consultation.