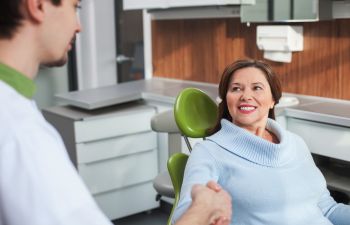 A dental implant is a great, permanent way to replace a missing tooth. To perform this procedure, a titanium post (the implant) is set into your jaw bone where it recreates the root of a tooth. An artificial tooth on top of the implant (known as a crown) is attached. Once complete, you have a replacement tooth that is as good as a natural one.
Braces and Implants
Some people are born with a missing tooth, and others need to have a permanent tooth removed for various reasons.
When considering braces and implants, it's best to plan ahead, because, since implants are surgically placed in the jaw bone, they can't be moved. If you have a missing tooth prior to getting braces, it's best to complete the ortho treatment first. This way the proper amount of spacing can be left for the implant. Or in some cases, your remaining teeth can be moved enough so that the space is closed in by shifting your natural teeth, making it unnecessary for you to get an implant.
Having an implant and wanting to get braces doesn't mean you're out of luck. Our orthodontist may still be able to straighten your teeth without moving your implant. To do so, they'll work around your implant and take its position into consideration when designing your new smile.
Find Out If You're A Candidate for Braces
To find out how we can get you a better looking and properly functioning smile – even with missing teeth – give us a call. The professionals of East Cobb Ortho in Marietta, Georgia are glad to sit with you and discuss your treatment options. Call today.