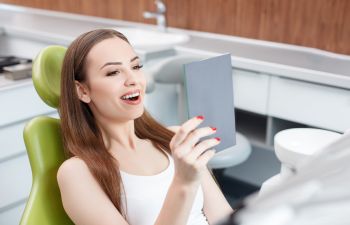 When we think of braces, we usually only consider the crooked teeth we may have. However, braces can be used for so much more. Orthodontics can help with the alignment of teeth, which alleviates tension on the TMJ once your bite is straight. Braces are also a simple way to close gaps between teeth. A gap between your front teeth does not have to stop you from smiling. At East Cobb Orthodontics, we can help you create the perfect smile.
Why Get Braces?
Spaces or gaps between teeth are a common occurrence. Using braces to close spaces is the most effective and natural option available. You won't need to remove any of your tooth structures, so your teeth can remain strong and retain their natural shape. It's also an affordable option that will allow you to only make minor adjustments to your smile.
Our orthodontist can slowly move your teeth to a healthier, more attractive position. This allows you to close the gap completely or even leave a little space to add some character to your smile.
Your Treatment Options
Depending on the size of the "gap" you have, we offer a number of options for you to choose from that will complement your preferences and lifestyle. Invisalign allows you the flexibility and comfort to close spaces without noticing, but it's important to remember to wear them! If you want those spaces closed without remembering to keep up with aligners, traditional braces work great. The brackets are more visible, but they are bonded to your teeth, so you won't ever leave home without them.
Smile healthier and happier. Contact East Cobb Orthodontics today to request a consultation.