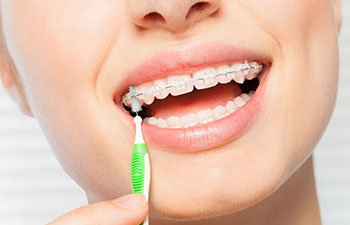 Whether you're sorting through the leftover Halloween candy, staring at a plate of goodies at grandma's over Thanksgiving, or picking up a few treats to stuff the stockings, you'll want to be extra careful about choosing holiday snacks that are safe for braces.
As long as you're practicing good oral hygiene every day and only eating sugar in moderation, here are a few braces-safe desserts and candies that won't hurt your orthodontic appliances:
Peanut Butter Cups – Reese's peanut butter cups are soft enough to bite into without usually having to worry about your brackets and wires. But if something does pop out of place, give us a call right away.
Hot Coco with Marshmallows – It's sticky and you'll need to rinse then brush afterward, but there's nothing in it that will break your braces. Keep in mind that you might want it to slightly cool off so that the hot temperature doesn't cause sensitivity.
Nut-free Brownies – Opt for brownies without caramel or nuts, as those ingredients can get stuck in your teeth or possibly pop off orthodontic brackets.
Soft Cookies – So long as the baked goods aren't hard or crunchy (like some of us prefer our gingerbread) go ahead and bite right in. Just test it first to make sure it's not tough. The fresher, the better.
Pumpkin Pie – It's soft and easy to brush off of your teeth once the meal is over. Go ahead and heap on some whipped topping!
Enjoy this time with your family — be it in person or virtually — even if you're wearing braces. Contact East Cobb Orthodontics today if you experience an orthodontic emergency over the holidays. We're always here to help!