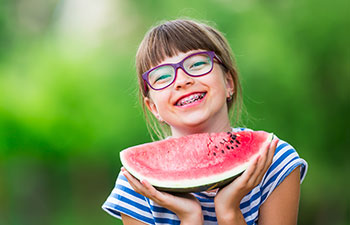 Braces aren't just about getting a prettier smile. If you are currently having orthodontic treatment, you need to remember a couple of important facts about cavities.
Fact #1: Braces Can Increase Your Cavity Risk
It's a lot harder to brush and floss when you're wearing braces. There's no getting around it – you'll have to put forth extra effort to keep your teeth clean.
If you don't, plaque will quickly build up around the brackets and wires. By the time your braces come off, you could be sporting half a dozen new little cavities.
This doesn't mean that braces cause cavities. The benefits do outweigh the risks, as you'll see next. But as long as you have them, you need to practice diligent oral hygiene.
Fact #2: Braces Will Lower Your Cavity Risk
Wearing braces may seem like a pain, but the payoff is huge.
Crooked teeth are plaque traps, sheltering harmful bacteria in places floss might miss and a toothbrush can't reach.
This plaque is responsible for causing cavities. By straightening your teeth, you make it a lot easier to keep your mouth clean.
Additionally, your mouth is designed to self-cleanse, to some extent, thanks in large part to your tongue and saliva. When teeth are in healthy alignment, they're less likely to pack in the debris that wears down enamel.
Braces For Marietta Residents
Dr. Capps and Dr. Iaculli can help you get a more comfortable and cavity-free smile. Here at East Cobb Orthodontics, we'll also show you the secret to keeping your teeth healthy while in braces. Call us today to schedule your orthodontic consultation.