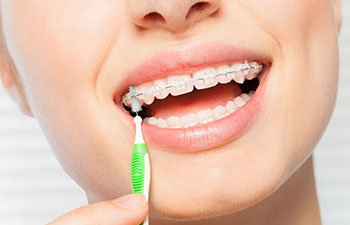 One of the most important things we tell our Marietta orthodontic patients, is that it's essential to keep your teeth clean each day. Cleaning around your brackets will prevent unwanted cavities and unsightly "white circles" on your teeth after your braces are removed.
With so many areas to clean around, you might want to try some of these oral hygiene aids to make the process easier:
Invest in an Electric Toothbrush
You should be able to clean your teeth with a manual toothbrush, but an electric version can remove even more plaque buildup in less time. Since you have so many extra areas to clean around, this can come in very handy!
Be sure to brush between each bracket and your gumlines, as this area is often the one that's skipped over more than others. If you don't, it won't be long before you start to develop gingivitis.
Use a Water Flosser
It's essential to floss your teeth every single day. But with braces, a standard strand of floss and a threader can take a while. A water flosser is an easy way to clean between your teeth in just a minute or two. There are even variations that can be mounted in the shower, for less of a mess.
Get Moving With a "Proxa" Brush
Tufted "proxa" or "proxy" brushes are the perfect width to brush between brackets and under wires… where food debris often builds up between meals. Just remember… it doesn't replace flossing!
East Cobb Orthodontics will make sure all of our Marietta patients know how to get the most out of their braces and orthodontic treatments. Call us today!