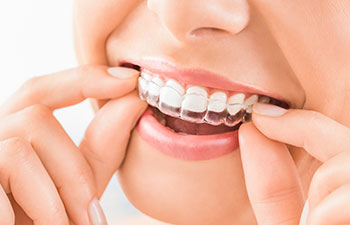 If you're an adult that's considering braces, you're not alone! Today it's more popular for adults to get orthodontic therapy than ever. But if you're still not sold on the idea, here's some information you'll probably want to consider:
Straightening Your Teeth Boosts Oral Health
Orthodontic therapy can lower your chances of gum disease, tooth decay, and TMJ disorder. In fact, in some scenarios it's considered an integral part of your comprehensive care plan.
Fit the Visits in Around Your Schedule
Worried about the time commitment? Most adult orthodontic patients are! But our flexible scheduling options make it easier for you to fit intermittent visits in around your work schedule and personal life. In most cases we'll only need to see you about once every 6-8 weeks, so you can plan your visit in before work, lunch, or on the way home from the office.
Invisible and Cosmetic Options are Available
Between tooth-colored ceramic brackets and translucent Invisalign trays, you can select a low-profile system that fits your lifestyle needs. Some types of adult braces are practically invisible.
Modifying Your Daily Routine
If you choose a removable aligner system, you won't have to alter your normal dietary habits whatsoever. Just remove your trays when it's time to eat, then brush your teeth and put the aligners back in. Brushing and flossing is the same as well.
For adults who do need a fixed bracket and wire system, investing in an electric toothbrush and water flosser can get you through most days just fine. But keep in mind you'll want to slightly shift the way you're eating for the time being.
Request a Consultation
Flexible financing plans fit your budget, thanks to low monthly payments. Call East Cobb Orthodontics to reserve a consultation.