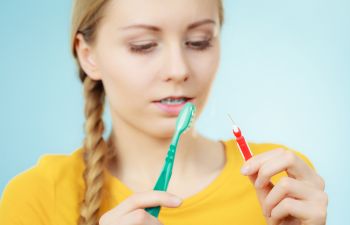 Welcome to the world of braces! Orthodontic treatment is often the beginning of a journey to straighter teeth and a smile you feel proud of. Taking care of your smile will be a bit different with braces and may require some extra time to make sure it's done correctly.
Here are 4 methods you can use to clean around your brackets each day:
Floss Threader – Using a floss threader is sort of like using a needle and thread. The floss threader helps you guide your floss under the wire so you have access to your gums and between your teeth so that you can floss like normal in those spaces.
Proxy Brush – This little tapered brush looks like a small Christmas-tree-shaped pipe cleaner. It can be used to clean underneath the wire and sides of each bracket. This brush is great for removing food or plaque between meals. It is also a nice compact option you can take with you on the go.
Super Floss – Super floss has a stiff end to tuck under the wire, and a thicker middle portion to clean around the bracket. You can then use the regular floss section to get between teeth and under the gumlines. It's a great 3 in 1 option!
Water Flosser – A water flosser is a safe and easy way to clean around your entire mouth. The water sprays out with enough pressure to clean around the brackets and between teeth, leaving a nice clean feeling.
These four tools will help you maintain healthy gums and teeth throughout your orthodontic treatment.
Have Questions?
Call East Cobb Orthodontics for all your orthodontic needs.