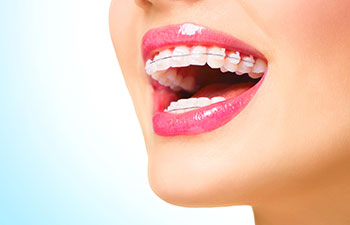 Did you know that even as an adult, you can still get braces? It's true! There's no reason to put an age limit on enjoying straighter teeth.  Here are some great reasons to get braces as an adult.
#1: Better Appearance and Confidence
It's no secret that when you look better, you feel better. If you're not happy with the appearance of crowded teeth, our Marietta orthodontist can help. Enjoy the confidence of the straighter smile you've always wanted.
#2 Healthier Mouth
If you have a lot of gaps between your teeth, slanted, or even crowded and overlapping teeth, then you probably have a difficult time cleaning them too. In fact, you probably have bleeding gums and deep pockets because of gingivitis or gum disease.
When you straighten your smile with braces, you're improving your oral health, making brushing and flossing easier. In time, you're less likely to develop tooth decay and periodontal gum issues as a result.
#3 Relief of TMJ Disorder
The temporomandibular joint (TMJ) is your jaw joint. People that struggle with TMJ issues clench and grind their teeth because their bite isn't aligned properly. In turn, they suffer from headaches, their teeth wear down, and they experience joint pain.
When you correct how your top and bottom teeth fit together, you're correcting the bite. Doing so will also alleviate discomfort and side effects associated with TMJ concerns.
Get The Smile That You Deserve
If you've already put your kids through braces, it's definitely your turn. If your child needs braces, you could consider going through the journey together. For an adult braces consultation, call East Cobb Orthodontics in Marietta today.