Accelerated Tooth Movement – AcceleDent Aura

Are you looking for the latest proven method to speed up your orthodontic treatment? Dr. John Iaculli of East Cobb Orthodontics proudly offers AcceleDent Aura, the first and only micropulse device that significantly accelerates tooth movement in a save, effective and convenient way. This revolutionary product not only makes your orthodontic treatment more comfortable, but it means you can get your braces off much sooner. At East Cobb Orthodontics, we can help you achieve a more attractive, straighter smile in less time. Dr. Iaculli stays at the forefront of orthodontic advancements and he is pleased to offer AcceleDent to the residents of Marietta and the surrounding area.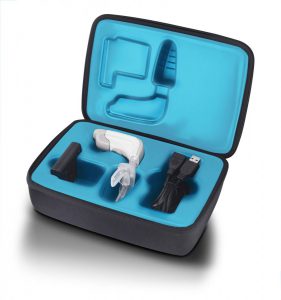 AcceleDent Aura is an FDA approved medical device that is used to accelerate and compliment your conventional fixed braces treatment. Patients wear this hands-free micropulse device for only 20 minutes a day. The device works by sending small, calibrated vibrations, or micropulses, to your teeth as they are guided by orthodontics. This accelerates tooth movement and helps you reach your ideal smile goals much sooner. In fact, reports show that AcceleDent Aura can potentially shorten conventional orthodontic treatment time by 5 months! AcceleDent Aura is a safe, non-invasive and convenient solution for patients who want minimal time in braces.
At East Cobb Orthodontics, we deliver high quality orthodontics to both children and adults in a comfortable environment. In order to ensure that you receive the most effective care possible, we utilize the latest technology and techniques available, including the AcceleDent Aura System. We understand the importance of a straighter smile, not only can we enhance the appearance of your smile, but we have a full range of orthodontic services to improve its function as well. Contact us to learn more from a qualified AcceleDent Aura Provider in the Marietta area.